Origins in the mortgage industry for this group of veterans go as far back as 2007/2008 and even some starting in 1991!!! So we have seen every Real Estate cycle there is and how to plan, pivot and come out ahead.
On The Mark Mortgages was founded in January 2018 and has grown from doing residential mortgages to doing commercial mortgages and business financing.
Today our team does what each of the team loves to do — build longstanding partnerships with clients & lenders centred on customized mortgage products. The more we know about our clients the better advice and plan that we can put together for them. We are in this for the long haul and love mortgages. We will be doing this for a long time to come and we hope to be dealing with you for the rest of your financing days. 🙂
At On The Mark, we know purchasing a home can be a stressful process, especially when you do not feel you're on solid footing with the people you're working with.
Our focus has always been on relationship building, and we are always ready to meet in person or connect over the phone, zoom or via email.
Home ownership goals don't realize themselves overnight. With On The Mark, we are in for the long haul, supporting you every step of the way.
Licensed Mortgage Professionals
Rosie
Unlicensed Assistant
Benson
Unlicensed Assistant
I used On the Mark Mortgages a few years ago when our mortgage was up for renewal. I am self employed and was worried about the process of obtaining the mortgage. The On the Mark team made the process easy and I was placed with a lender that understood the challenges of being self employed. Recently I contacted them again to do a review of my mortgage and was given the same exceptional service as before. It is nice to have a knowledgeable team in these uncertain times to make you feel confident with the largest purchase of your life. I have recommended them to all my friends and family. What a great team!
Why use a mortgage broker?
Brokers take the guess work out of the equation.
There are typically two ways to get a mortgage in Canada: from a bank, or through a licensed mortgage professional.
The difference between these two options is significant.
Banks typically only offer a narrow band of products, which are limited to within the institution.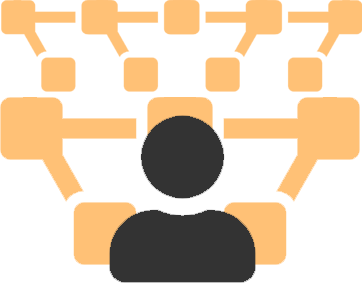 By contrast, licensed mortgage professionals have access to hundreds of mortgage products through institutions including Canada's large banks, credit unions, trust companies, and other financial institutions.
Whether you are purchasing a home for the first time, taking out equity from your home for investment or pleasure, or renewing your existing mortgage, it is important that you are able to make an educated buying decision built on unbiased professional advice.
This allows the clients more choice and the comfort of knowing they are getting the best mortgage to suit their needs.
Step 1: Pre-Approval
Obtaining a pre-approval is an essential first step in every mortgage transaction, whether it's your first or tenth time purchasing a property. Once you've decided to purchase a home, the pre-approval process will determine what type of mortgage you qualify for, and therefore what type of properties are within your price range. We can help jumpstart this process.
Mortgage professionals work for you, and not the banks; therefore, they work in your best interest. From the first consultation to the signing of your mortgage, their services are free.
A fee is charged only for the most challenging credit solutions, typically situations where mortgage professionals can do for you what your bank cannot.
Amy's House was founded in September 2019 a mere 6 months after Amy Alain passed away from Stage 4 Lung Cancer. My connection to the charity is that Amy was by best friend. My person. The woman who saw me through all the struggles of young adulthood and often offered sage advice well beyond her years. We often laughed until we cried and cried until we laughed as she was always so good at finding the small humour in some of life's most bitter blows. Part of my mission as a business owner is to help Amy's House succeed in both obtaining needed operational funds but also in telling the story of Amy, and how she was the type of person who cared more about those around than she did for her own struggles while battling cancer.
Mark has lived and worked in the Alberta Avenue/McCauley area of the city for the last 19 years. It is for this reason that he loves to support inner-city charities.
How the city as a whole benefit when supporting an inner-city charity:
Helping to support the community where many OTM operates
Help overcome the most pressing social issues that most Edmontonians are not aware of.
Local charities have been hard hit by budget cuts and as a private enterprise we have a socially responsibility to help where we can
Inner city charities are typically smaller, meaning more of your money goes directly to the community and doesn't get lost in admin costs
The entire city & community will benefit from a healthier and caring core.